Never underestimate the power of a bestie...
'You know, even though we've watched Pretty Woman, like 36 times, I never get tired of making fun of it,' says Michelle, in the opening line of Romy and Michele's High School Reunion. 'Oh I know,' responds Romy, 'poor thing they won't let her shop. Yeah, like those sales girls in Beverley Hills aren't bigger whores than she is!'
Best friends Romy and Michele maybe wrapped up in a pretty, candy coloured package with lives that revolve around losing weight, making their own clothes and dancing, preferably with some cute guys - but what we underestimate in them is their power.
If you've not seen the film, Romy and Michele have been friends since high school and are inseparable still, 10 years later, and living together in L.A. where the film begins. After a run in with an old schoolmate who tips them off that there's a high school reunion in a few weeks, they dig out their old school yearbook and reminisce about the cliques, the crushes, the good and the bad times, 'Even though I had to wear the stupid back brace and you were kind of fat we were still totally cutting edge' recalls Michelle. 


All this thinking leaves Romy with a feeling that perhaps, their current lives aren't in line with what might be expected of them at the reunion. 'Well, do you think it's impressive', says Romy, 'that we're still single and we've been living together for 10 years and I'm a cashier and you're unemployed?' So they devise a plan to pretend to be something they are not. 'Alright, so just remember from this point on, we are sophisticated, educated, successful career women,' coaches Romy. 
The reunion happens, well a few times (cue Michelle's Wayne's World-esque dream sequence) but what results, from near social catastrophe, is the heart-warming and joyful realisation of the things that are most important to them. That is - to be true to yourself and to each other. 

For me, Romy and Michele's High School Reunion is a feminist Trojan horse. To survive - the bullies, the cynics, the leering boys - they create their own world order. A fabulous mix of cutesy exterior, quick-witted retorts and 'take us as we are' attitude along with, most importantly - having a lot of fun.


Here's some tips on how to live your life according to the Romy and Michele rule book.


1. Compliment yourself and each other. 
Romy: "I can't believe how cute I look!"
Michele: "I know! This is like the cutest we've ever looked!"

2. The best style is your own style. Remember you're just ahead of your time.
Michele: "This is so typical!  Of course we the only ones that don't look like we're going to a hoedown."  
3. Don't let the bitches get you down.
Romy: "What the hell is your problem Christy? Why are you such a nasty bitch? Do you get some pleasure from torturing other people? So what if Michelle and I did make up some lame story? We did it because we wanted you to treat us like normal human beings. You know what I finally realised – I don't care if you like us – because you're a bad person with an ugly heart and we don't give a flying fuck what you think!" 
4. Have a blast!
Michelle: "Can I tell you the truth?  I never knew we weren't that great in high school – we always had so much fun together. I thought high school was a blast! And until you told me things weren't good enough I thought everything since high school was a blast too. I think we should go out there as ourselves and just have fun, like we always do – to hell with everyone else!" 
5. And if in doubt, there's always interpretative dance...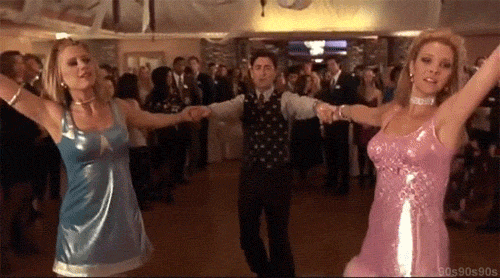 Romy and Michele's High School Reunion is screening at the BFI as part of their 'Girlfriends' season.